SITE-SPECIFIC VIDEO WORKS IN BERLIN
---
The Names: The Alte Münze Sessions (2023, Waveform Alphabet)
Heather Frasch - flute
Carina Khorkhordina - trumpet
Koen Nutters - upright bass
Han-earl Park - electric guitar
Quentin Tolimieri - bass & soprano melodica

Melodies, harmonies, and basic arrangements by Koen Nutters

Recorded by Brendan Dougherty at Alte Münze Studios, Berlin, on the 7th and 8th of May, 2022

Mastered by Taku Unami

Graphic design by Dinara Vasilevskaia
---
Guido Kohn − cello
Carina Khorkhordina − trumpet
Samuel Hall − percussion and electronics

live at REH (Raumerweiterungshalle) Berlin, October 31st 2020
recorded by Nadim Khoury
mixed by Samuel Hall
cover by Carina Khorkhordina
---
The Names: Four Names and a Song (2022, Editions Verde, CD/digital)
Sara Barbosa de Campos - speaking voice (3)
Seamus Cater - harmonica, speaking voice (1)
Heather Frasch - flute
Marielle Groven - violin, speaking voice (1)
Morten Joh - just intonation electric vibraphone
Carina Khorkhordina - trumpet
Jeroen Kimman - electric guitar (2)
Koen Nutters - acoustic guitar (1,3), upright bass, speaking voice (1)
Han-earl Park - electric guitar (4)
Gert-Jan Prins - percussion, voice
Germaine Sijstermans - clarinet
Aimée Theriot-Ramos - voice, cello, speaking voice (1)
Quentin Tolimieri - melodica

Melodies, Frameworks, and Overdubs by Koen Nutters
---
The Names — Rehearsal Takes 2020 (digital)
Heather Frasch - flute
Carina Khorkhordina - trumpet
Koen Nutters - upright bass
Han-earl Park - electric guitar
Quintin Tolimieri - bass and soprano melodica
Compositions by Koen Nutters
---
Eric Bauer (electronics) + Ilia Belorukov (alto sax) + Carina Khorkhordina (trumpet) on VA VOL III double cassette from DAIZY & HOLY (2020). Recorded in Berlin in 2019.
---
Carina Khorkhordina — trumpet
Dominic Jasmin — no-input mixer, drum machine, ableton live
Edith Steyer — clarinet, preparations, water
recorded in May 2020 (digital)
---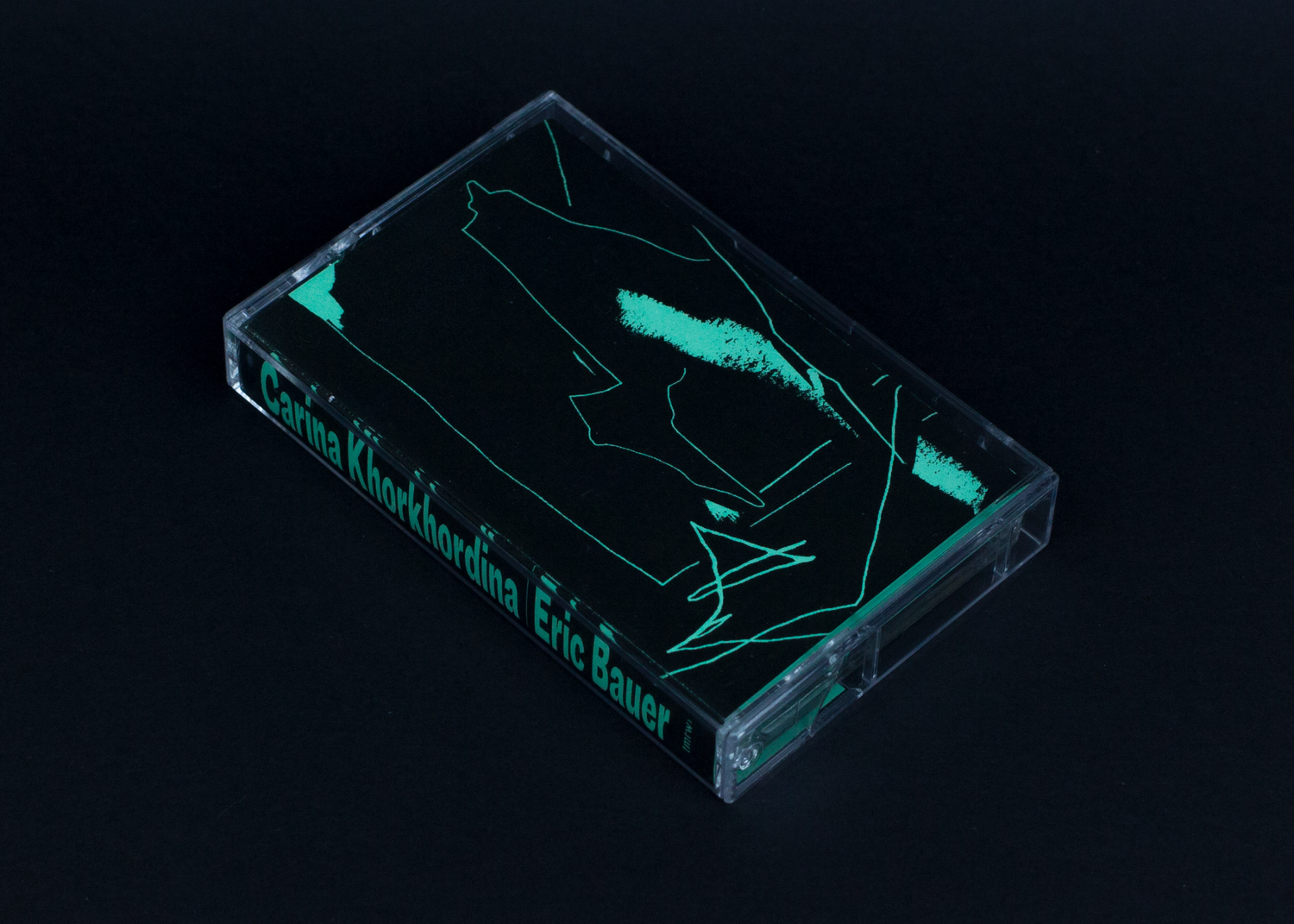 C-50 ferro tape, tmrw>
recorded live at Petersburg Art Space, Berlin on 03.11.2018 (side A) and 31.05.2018 (side B)
recording, mixing and mastering by Adam Asnan (aa-rec.net)
Carina Khorkhordina — trumpet
Eric Bauer — modular synthesizer
---
LP & digital out on bohemian drips.
A site-specific composition by Mazen Kerbaj which premiered on May 19th 2018 at the large water reservoir in Berlin-Pankow, performed by 49 trumpet players from Berlin.